We all know that the US stock markets open from 9:30 am (ET) to 4 pm, which means if you live in New Zealand, you have to stay up until 2:30 am (NZDT) to buy or sell US stocks.
That used to be the case, however, now you don't have to. Instead, you can start trading US stocks from 9 pm (NZDT), on the Tiger Trade app. Pre-market trading gives investors the flexibility to take their time looking at the various companies they want to invest in without having to stress about a closed US market or missing an opportunity because they were sleeping. Plus, you can invest from anywhere- even when you're on the treadmill at the gym.
How?
In the US markets, investors are allowed to trade from 4 am (DST) to 9:30 am (9 pm-2:30 am NZDT), pre-market; and from 4 pm to 8 pm DST (9 am-1 pm NZDT), after-hours. However, whether you have access to it depends on your brokers. While most New Zealand brokers do not support extended trading, Tiger Brokers do support it and offer real-time quotes for these sessions as well.
Pros of extended hours
Having access to extended hours gives you much more flexibility to react to news and events that could have a great impact on the price of securities.
What kinds of events?
Earning reports are often announced during extended trading hours because companies don't want to cause too much fluctuation in the share price during the regular trading time. Therefore, once you read the earning report, you can trade before the market opens. For example, Facebook's shares plunged as much as 20% in after-hours trading following the report on February 2, 2022. And it kept falling afterwards. If you have had positions on Facebook's shares, you would have a chance to sell them before the price dropped too much.
Having access to pre-market trading has meant investors can make a call on what they wanted to do with their shares prior to the market opening.
These extended hours for the US stock markets also mean that New Zealanders can react to news and events of New Zealand and European companies listed on the NYSE and NASDAQ earlier.
You don't have to trade during the extended hours of every trading day, but it does provide you with more choices that may help you grasp opportunities or reduce loss.
To help you spot opportunities from extended hours data, Tiger Trade created a list of movers during these hours. To view them go to: Quotes-Stocks-US-Pre/Post-Market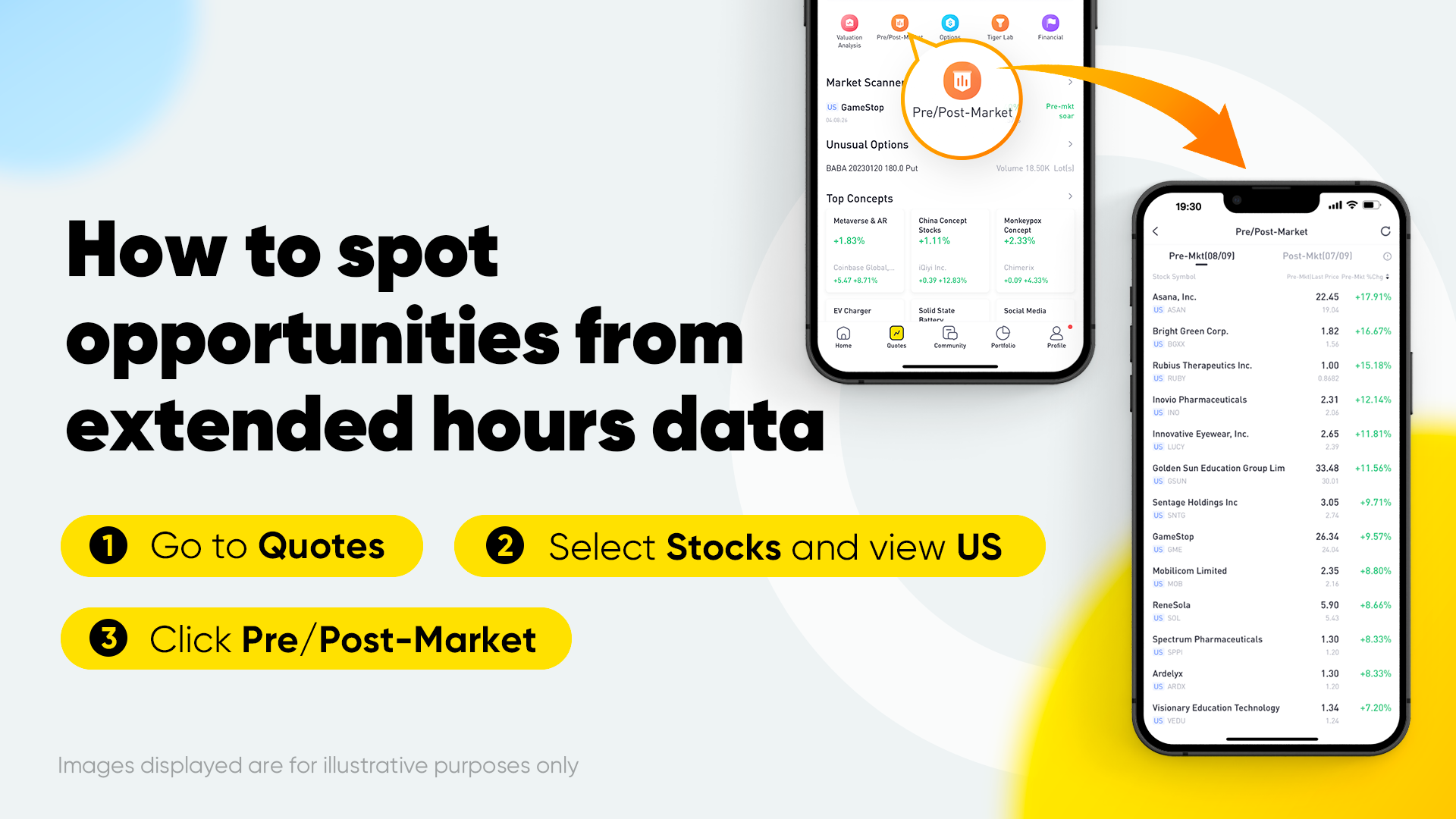 The risk of trading in extended hours
There are always risks when trading. Typically, the trading volumes of most shares are very low, which would bring some extra risks for trading during this period.
Larger spreads. This means you will sell at a lower price and buy at a higher price.
Over-reacted price. If you were so eager to buy a stock because of good news during extended trading hours, when the selling order was limited, you would probably pay an extremely high price for the shares. But once the large selling orders begin to emerge, the price may drop immediately and you may suffer great financial loss.
Unable to execute. Without many people trading, your order may not be filled because the volume of people selling is small.
Uncertain price. Prices can vary between normal US trading hours and extended trading hours. As the US market closes in the early hours of the New Zealand morning, it can be hard to predict what will happen to stock prices you have purchased during pre-market trading.
So, how do you decide the order price?
You can see the bid and ask price and number of extended hours through the Order Book containing Level 2 market data on Tiger Trade. It's important to note that the price can be tricky if the trading volume is small. Sometimes the stock price quoted during an open market will differ from the price quoted in extended trading hours.
However, if you trade shares and ETFs with high liquidity, such as APPL, TSLA and QQQ, during extended hours, this risk of liquidity may be less concerning.
Can I trade with all types of orders?
Only limited orders can be filled during these sessions.
How to track the trading volume?
Select the pre-market quotes on the chart by 1Day in Tiger Trade and you will be able to see the specific volumes numerically and with the bar graph. Paying attention to volume, instead of simply looking at the price, is one of the key indicators that moves an investor from a beginner to one being advanced.
Can I trade all of the US stocks in extended hours?
All shares of companies and ETFs listed on the NYSE and NASDAQ are supported, which means OTC stocks can't be traded during these sessions.